So you've decided to elope and want to have your ceremony in the middle of the woods, under a beautiful waterfall.
Maybe you went to a waterfall on your first hike together, or you proposed at the base of one, or maybe waterfalls just feel like home to you. Whatever the case is, welcome, you're in the right place! Surprisingly, there is a lot to think about when planning a waterfall elopement. But don't worry, that's where I come in! I'm here to give you five killer tips on planning the waterfall elopement of your dreams.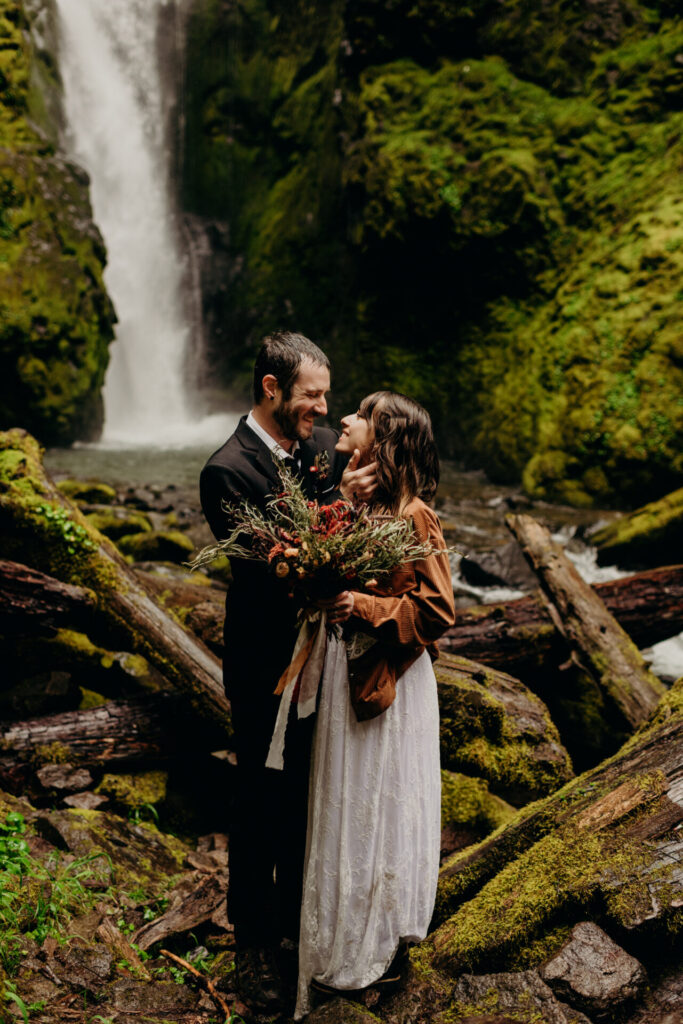 Tip #1: Timing is everything.
And not just the time of day, but the time of year too! Let's start with the time of year. In Oregon, we get a lot of rain throughout the year. A LOT. So, from late fall to the early spring months, some of these waterfalls are so full that their pools flood the areas around them. You can't get close to the falls without being knee-deep in water! But, some of them still have a large enough base that you can still say "I do" with a raging waterfall in the background. You just can't get too close! On the other hand, the summer months can get pretty dry, which means that the smaller waterfalls can get reduced down to just a trickle. Which, in my opinion, can be a little underwhelming as a backdrop for your elopement. Plus, everyone always heads out on a summer weekend for a waterfall hike, which could mean crowds.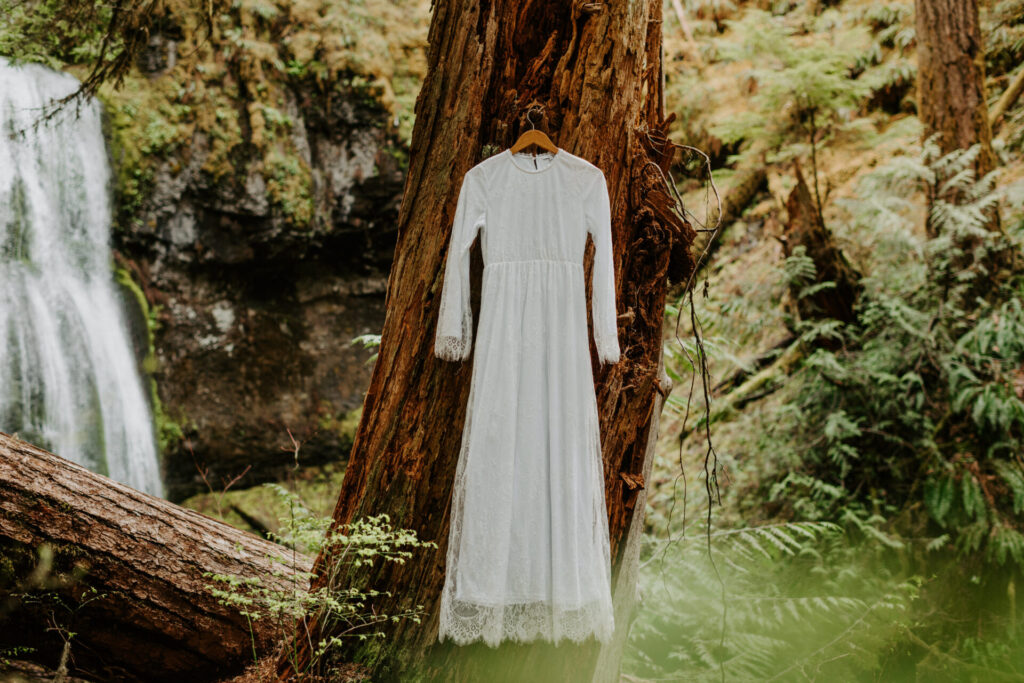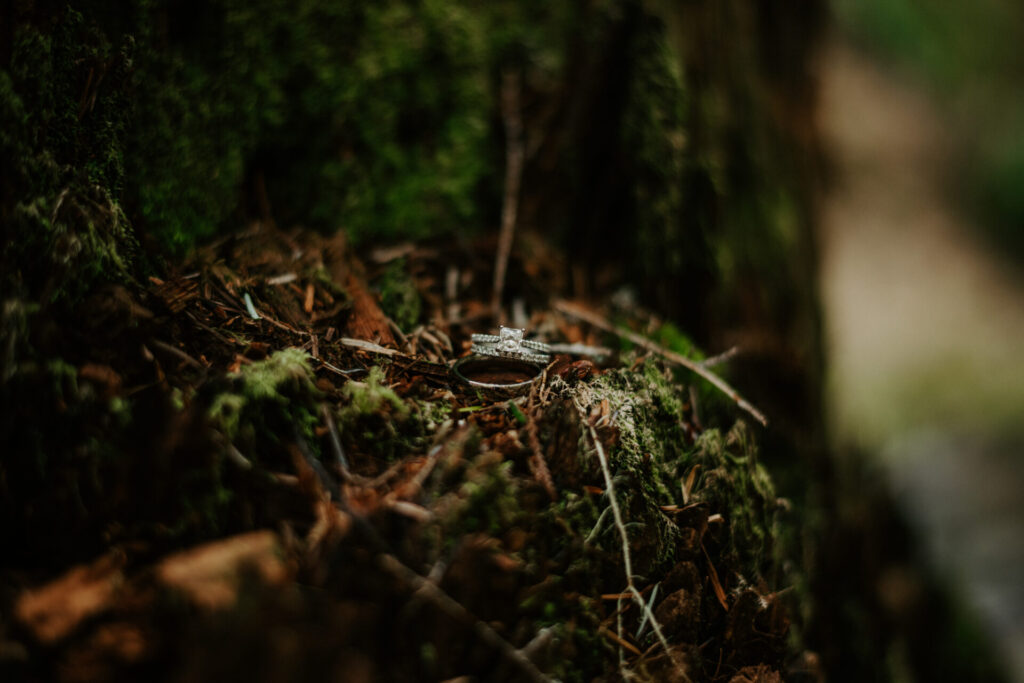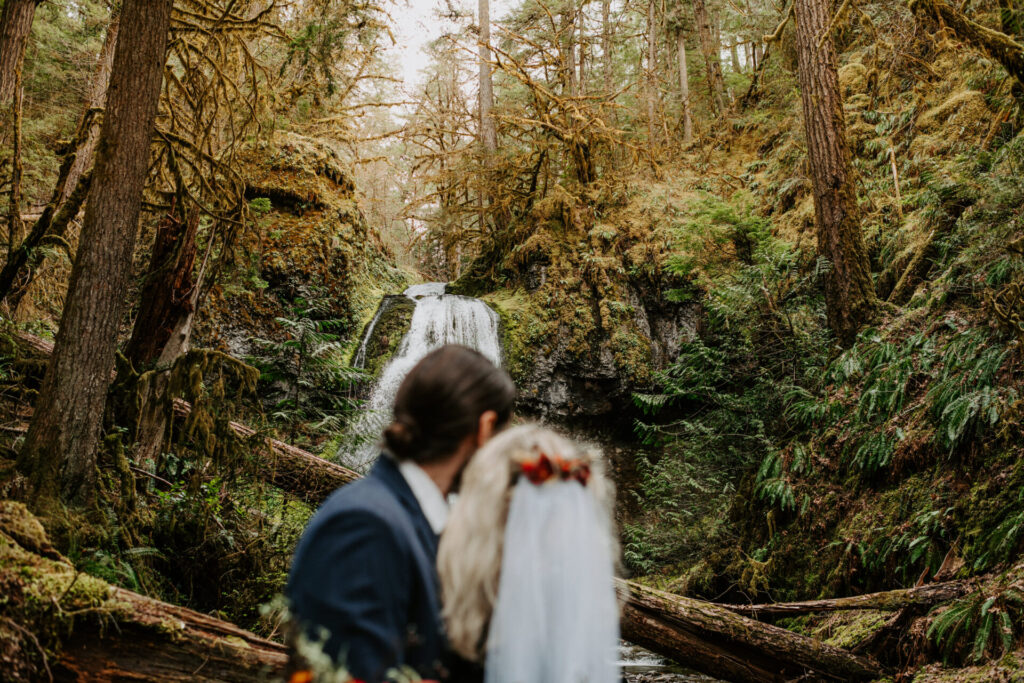 I always tell my couples that late spring to early summer is the best time for a waterfall elopement. All the plants are a vibrant green from just having bloomed and soaking up the last of the spring rain, the waterfalls are usually full but starting to get their summer body so they aren't overflowing, and it's still early enough that the crowds haven't shown up yet. Plus, if you plan a weekday elopement, you'll be sure to have the waterfall all to yourselves. This isn't to say that you can't have a late summer waterfall elopement or a winter elopement, there just needs to be a little tweaking involved to make it work! Need help planning your waterfall elopement and need a photographer? You're in the right place, let's connect!
And lastly, the time of day for your waterfall elopement matters as well.
Since waterfalls are usually deep in the forest, the light is a bit different in the woods. I always tell my couples morning light is always gorgeous at any waterfall! The mist coming off the waterfall always gets a soft glow from the morning light, and when the sunshine hits the falls just right, sometimes it can look like liquid gold spraying off into the forest–it's absolutely breathtaking. If morning isn't your thing, don't fret. Really anytime before the late evening is great for a waterfall elopement! You just have to be mindful of how fast the light goes in the forest–"sunset" time is much earlier in the woods than it is, say, on the beach. 
Tip #2: Bring your backpacks!
Now, depending on if there's a hike involved and how long the hike is, some couples opt to pack their outfits and change near their ceremony site, while some prefer to get ready at the trailhead and hike in their outfits to the waterfall. Either way is perfect, but there are a few things to keep in mind:
If you decide to pack your outfits, make sure you pack them correctly so they don't get wrinkled and you can easily access them. Everything should be steamed or ironed and either in a garment bag or hanging up on hangers in the back of your car. If you have a garment bag, an easy option is to hook that onto the back of your backpack and you're good to go! If you don't have a garment bag, your backpack will do just fine–just be sure to gently roll your clothes into long rolls and place them at the top of your bag. Rolling instead of folding reduces the chance of wrinkles!
If you decide to change at the trailhead, you may want to bring a collapsible changing room if you desire some privacy. Just keep in mind that you will be hiking in these outfits, so hike-friendly attire is always nice!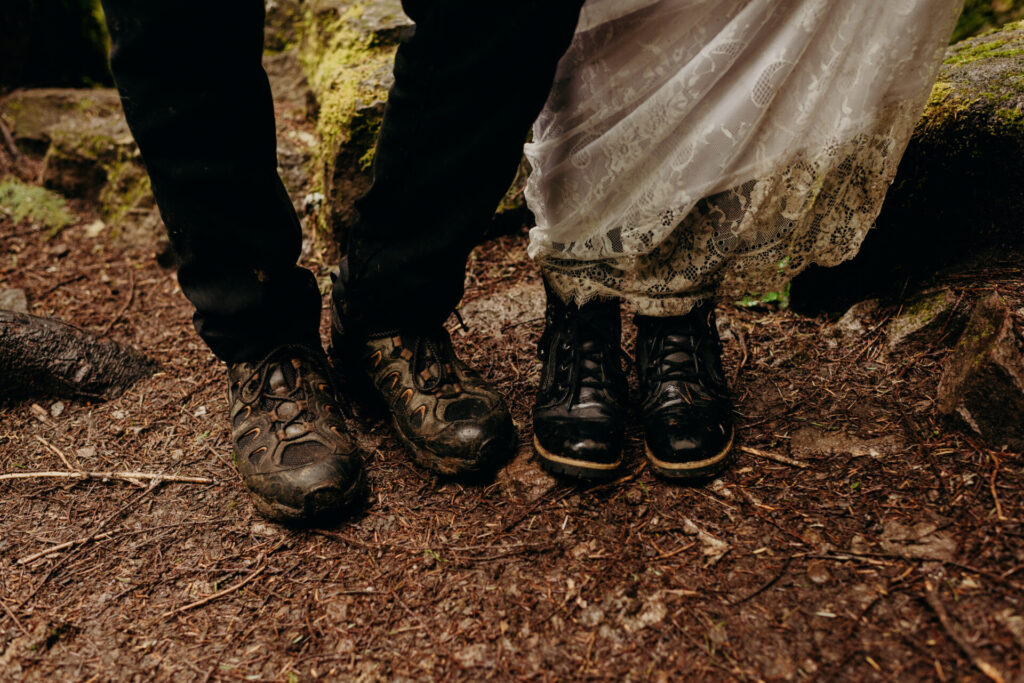 Shoes are also a big factor for a waterfall elopement. I always suggest that couples wear some sort of outdoor shoe that still looks photogenic, like Danner boots or Sorel boots. That way, you feel comfortable hiking and walking around the rocks at the base of the waterfall, and your shoes look good with your outfit! We all know that adventure elopements are a #vibe, so completing the look with some nice outdoor shoes (and cute wool socks like Darn Toughs!) is the cherry on top.
Other things to pack that are handy for your day would be waterbottles, a towel, and hand warmers if it gets cold!
Tip #3: Safety is top priority!
Slippery rocks, uneven terrain, a very fast flow of (verrrrry cold) water, etc etc. While we are there to celebrate and have fun, making sure everyone gets home safely trumps all else. So please be sure to be careful when exploring! I always have a small first-aid kit on-hand in case anyone ever trips, and having one of those for your own bag is a good idea as well.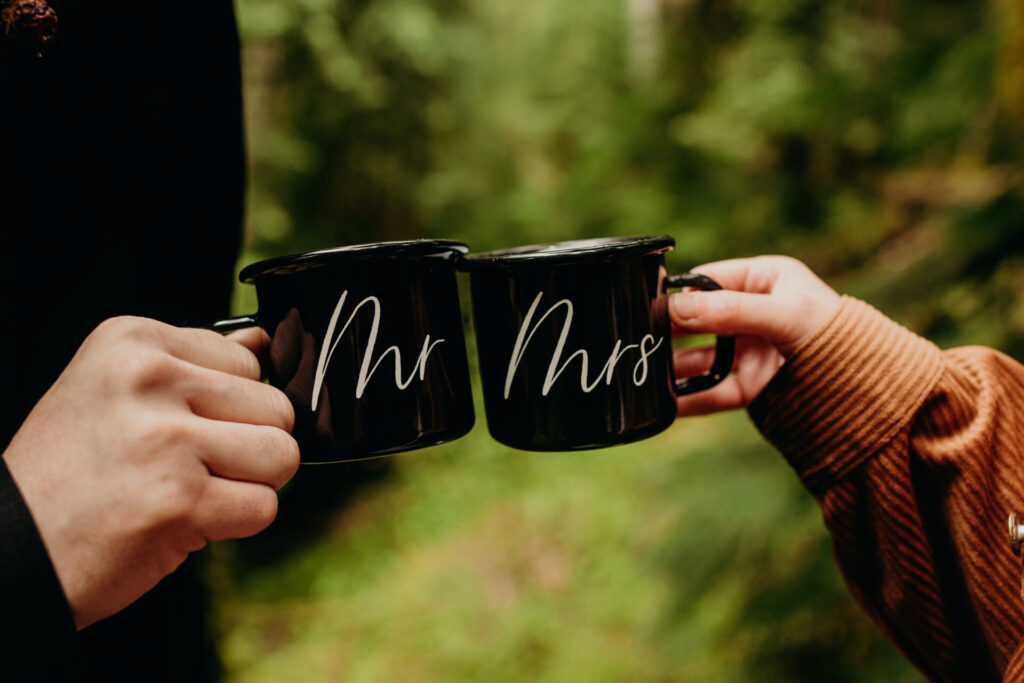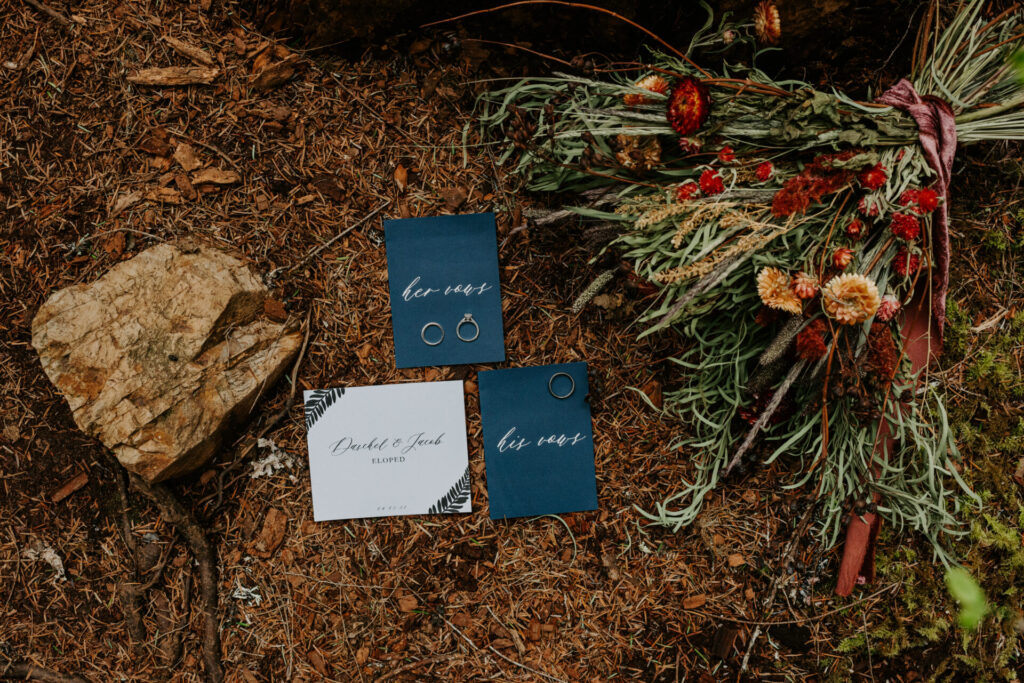 Tip #4: Fun things to pack for your waterfall elopement:
Vow books (I absolutely die from happiness when couples decide to share vows during their elopement)
Drink of choice (champagne? Hot coffee? Anything is possible!) and plastic flute glasses or cute camp mugs for a toast
Delicious dessert like cookies, cupcakes, or even a mini cake (yes, I promise it can be packed in an insulated bag and brought along!)
Fun decor items like a ring box, an invite suite if you invited your closest friends and family, or pretty ribbon for your bouquet if you decide to have one, or "Just Married" signs to hang on your backpack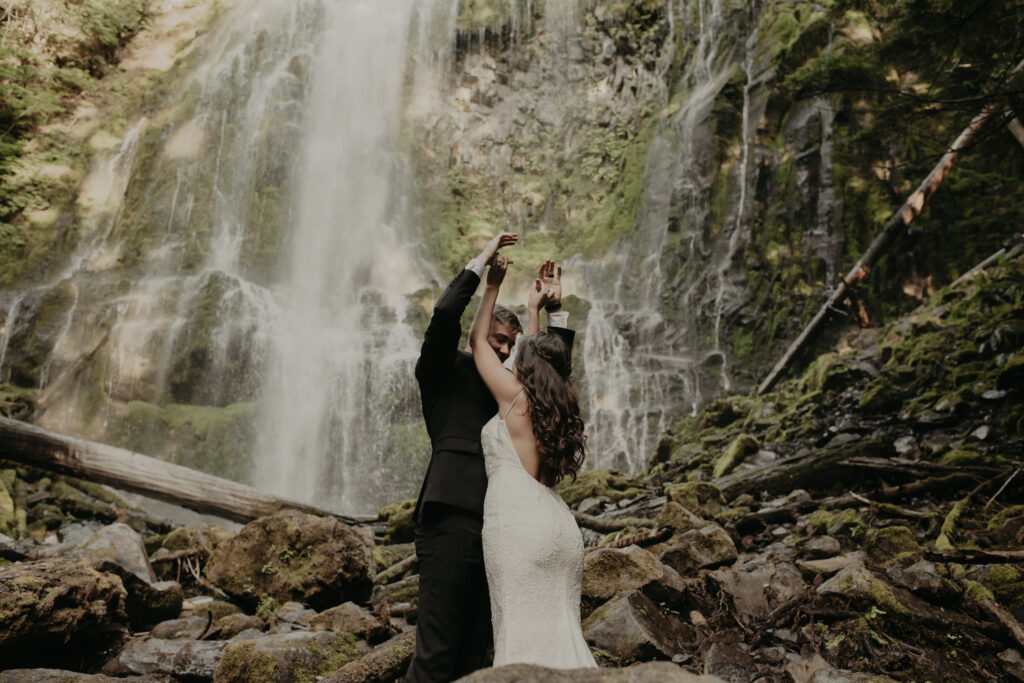 Want to see the full gallery of this waterfall elopement? Click here!
Tip #5: Don't be afraid to get a little (or a lot) wet!
You just got married at a freakin' gorgeous waterfall! Be present with your people, love and laugh a whole lot, and don't forget to enjoy the gorgeous scenery where you got to marry your favorite person. Your feet may get wet, your outfits could get a little muddy, but hey, embrace it and hold tight to every moment.
Waterfall elopements seriously have stolen my heart. They are my love language, my favorite adventure, and I feel so honored when I get to capture such special moments for my couples. If you need any help in planning your elopement and need a photographer, I'm your gal! Let me help you plan the waterfall elopement of your dreams and shoot some gorgeous photos you two and your families will look back on and remember how beautiful it was, promising forever under a misty forest and a cascading waterfall.